CLEAN FIRST TECH
Clean First Tech DaVinci's commitment to every vaporizer enthusiast where top priorities do not just end with the cleanliness of every device.
Now presenting the next evolution of DaVinci Tech with a Web-Based App that extends the functionality of IQ Series vaporizers to mobile, tablet, and desktop. With future products on the horizon, this is only just the beginning of reaching new levels to the experience of vaporization.
What does that mean for you? Currently, it is the ability to pair with any of our IQ Series where intelligence meets elevated vaporization with a universal solution to experiencing vapor how you want.
---
DEVICE COMPATIBILITY & FEATURES
IQ & IQC VAPORIZER
Precision Temperature Mode
Custom Smart Paths
Real-time Graph
Device Information
F/C° Change
Stealh Mode On/Off
Vibrate On/Off
IQ2 VAPORIZER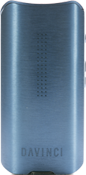 Precision Temperature Mode
Custom Smart Paths
Real-time Graph
Device Information
F/C° Change
Stealh Mode On/Off
Vibrate On/Off
Real-Time Dosage Tracking
Session History
Session Rating